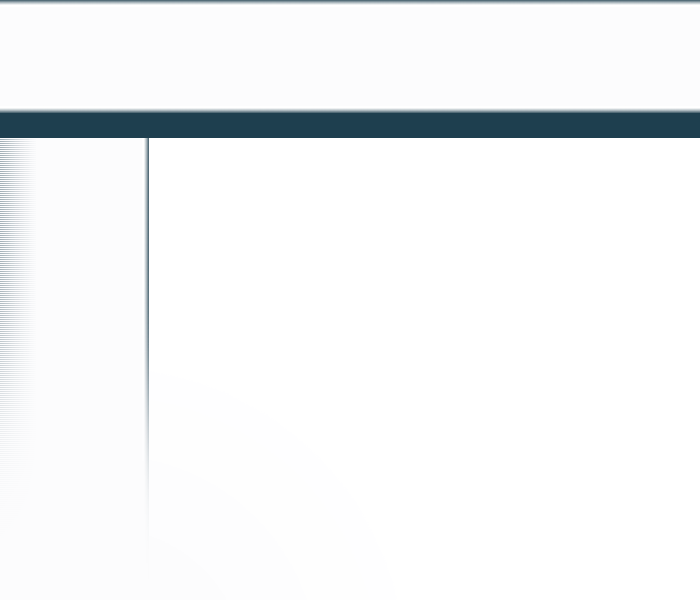 PO Box 8061 Ward Hill, Bradford MA 01835
phdplumbing@comcast.net
(978) 556-5617 or (781) 581-0700
(updated 10/10/2016)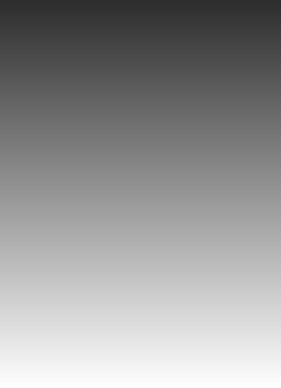 NH #4062
MA # 13471
Master License
Fast reliable service
(978) 556-5617
(781) 581-0700
NH #4062
MA # 13471
Master License
Fast reliable service
(978) 556-5617
(781) 581-0700

Heating / Boilers / Furnaces / AC Units
Let us find a solution for your heating needs, from boiler installations to radiant floors,
we will find a way to bring the warmth and comfort into your home.
Heating & Air Conditioning Labor Rates

• Air Conditioning (minor) Service - Check air handler ; Flush condensate pump & lines ; Change filter. = $185.00
• Air Conditioning (major) Service - Check air handler ; Flush condensate pump & lines ; Change filter ; Clean evaporator coil ; Clean condenser coil ; Check Freon level. = $425.00
• Antifreeze pumped into boiler & baseboards (up to 3 zones) = $300.00 per system
• Assess heating problem = $165.00
• Baseboard leak repair = $300.00 (includes draining & purging system)
• Fireplace installation = call for price
• Frozen pipe thawing = $350.00 (first 3hours)
• Gas valve replacement (Boiler, Water Heater, Fireplace, etc) = $250.00
• Purge heating zones (up to 3 zones) = $250.00 per system
• Boiler Service 1 - Cleaning of Boiler/Furnace = $185.00
• Boiler Service 2 - Maintenance (required every 12-15 years on all heating boilers) - Drain boiler and replace T&P valve ; Thermal expansion tank ; Pressure regulator ; Back-flow prevention device ; Install new circulator pumps. Purge and test heating system. = $350.00 (up to two pumps) or $400.00 (three & four pump systems)
• Thermocouple or thermopile replacement. = $165.00
• Furnace installation. = Call for Pricing (many variables)
• Boiler installation. = Call for Pricing (many variables)
Ask about our multiple job discounts.
Please call to verify price validity. PHD reserves the right to change pricing/rates at our discretion.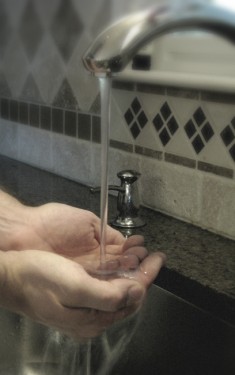 Close-up view radiant floor over concrete floor.
(N Andover, MA)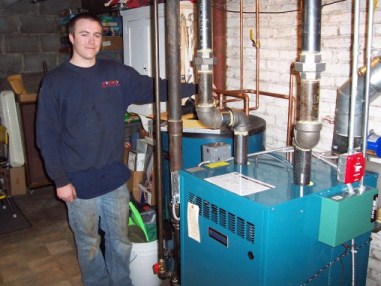 Matt, testing a newly installed Indirect
water heater and steam boiler.
(Newburyport, MA)
96% High efficiency boiler (wall mounted) with 45gal indirect water heater and four heating zones.
(Carlisle, MA)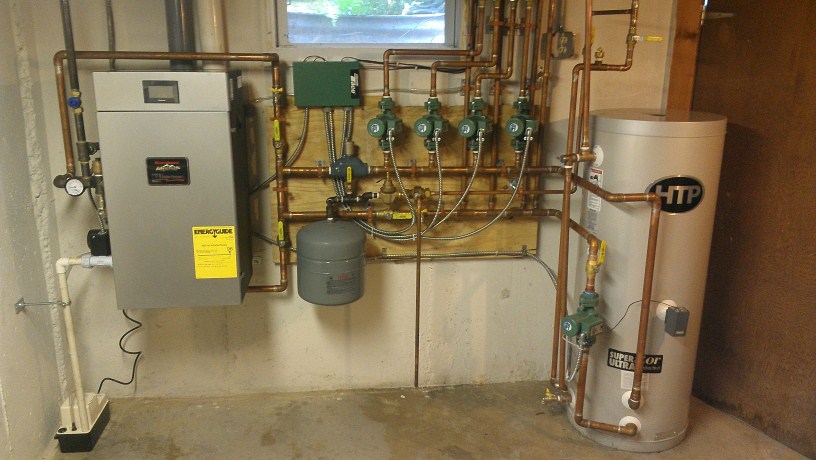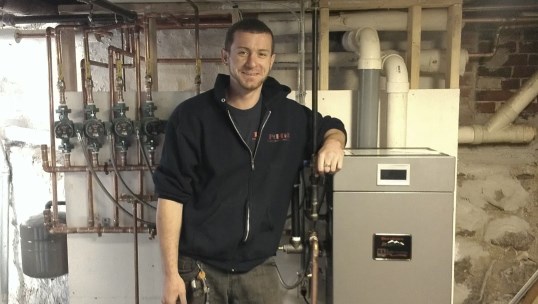 Danny, after calibrating an Alpine 105 High Efficient heating system with 4 heating zones.
(Bradford, MA)
PLUMBING . HEATING . DRAIN CLEANING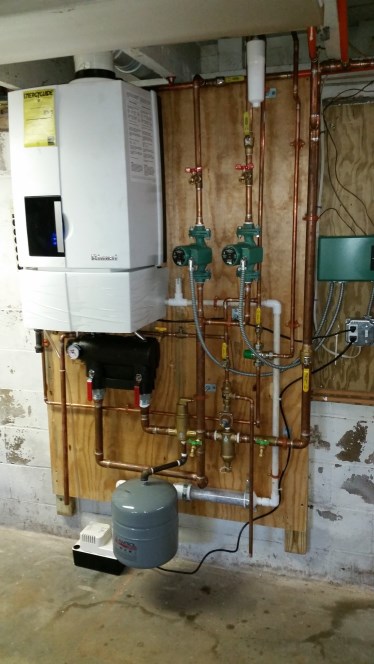 Rinnai E110C Heat and hot water tankless water heater.
(Methuen, MA)
Heating FAQ's (Frequently Asked Questions)

Q) Leaking pipe :-
Why is the pipe attached to my boiler leaking ?
A)
The pipe your referring to is most likely attached to the pressure relief valve, and is leaking because it has reached it's blow-off point (pressure over 30psi). This is a safety device which is designed to keep the boiler from reaching pressures above 30psi. High pressure combined with high temperatures will result in an explosion, at this point I'd recommend shutting off the water & power to your boiler and giving us a call.
Q) Boiler maintenance :-
How often should I have my boiler cleaned ?
A)
Gas fired boilers should be serviced and cleaned every four to five years and oil fired boilers should be serviced and cleaned every second year. All boilers should have mechanical parts such as pressure regulator, backflow-preventor, pressure relief valve, and expansion tank replaced every ten to twelve years.
Q) Radiant heat:-
I want to install radiant heat in my basement. Is this possible without having to rip-up the concrete floor ?
A)
Any installation of radiant flooring which keeps the tubing off the concrete is recommended and preferred. Some of our best installations of radiant heat have been done in basements, using a floating floor system which acts as both a vapor barrier and an insulator, we install a slotted radiant track which provides even heat to the entire area. Below are some pictures of a section of radiant flooring in which antifreeze was needed (note the red color in the tubing) for a separate section of the heating system which was exposed to the elements on a four season deck.
Q) Frozen baseboard:-
I have a section of baseboard in a four season porch which freezes up occasionally. How do I prevent this from happening ?
A)
The first and most cost efficient way of keeping any part of your heating system from freezing would be to pump antifreeze (non toxic solution) into the heating system. With the exception of systems containing Aluminum, CPVC and Galvanized Steel. Most antifreeze solutions will even protect the metals in your heating system against corrosion and lubricate moving parts. Antifreeze solution should last up to 6-7 years depending on the size of your heating system, and should be checked every two to three years for high acidity (pH) levels. Whether you have freeze-up problems or a fully functional heating system that has never frozen up, I would recommend anti-freeze to all homeowners with radiant (hot water) heating systems. Since mechanical items such as circulators, gas valves, etc break down at the most inopportune times, anti-freeze is your insurance policy against high repair costs of burst, frozen piping & boilers.
The second solution to your problem is to create a seperate zone just for that four season room, by adding a switching relay to your boiler and rerouting the piping going to and coming from the radiators. This room can now be controlled by its own thermostat. Other solutions would include installing a jog / exercise relay on the heating loop to periodically keep water moving through the heating lines.
Q) Incentive Programs:-
I'm thinking of replacing my old heating system / water heater, will I qualify for any rebates or incentives to install new equipment ?
A)
Utility companies change energy incentive, rebate programs frequently. Most providers will incentivize high efficient heating, hot water and A/C equipment. Please call your provider for more information or if located in Massachusetts, contact Mass Save at - http://www.masssave.com/residential/mass-energy-rebate. See current Massachusetts residential energy rebates on our "
coupons and specials page
".